Friends of Wyalusing Meeting

Monday, 6:00 PM, March 9, Wyalusing State Park Office.

Coming Event:

Friends of Wyalusing and the Friends of Wisconsin State Parks have planned a DNR Work "Play" Earth Day on Saturday April 25. Watch for details.



Year of the Riverway
*
Declaration
Featured Monthly Speakers

2009 has been declared Year of the Riverway by Governor James Doyle*
In 1989, Governor Tommy Thompson signed Wisconsin Act 31 which created the Lower Wisconsin State Riverway.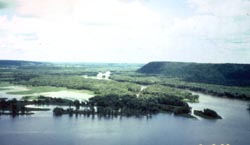 This historic action represented the culmination of years of planning and followed hundreds of hours of public meetings. The Riverway legislation was born from a compromise crafted by legislators from both political parties. The Riverway extends 92.3 miles from below the dam at Prairie du Sac to the confluence with the Mississippi River near Prairie du Chien and encompasses 79,275 acres. The Department of Natural Resources is responsible for administering a land acquisition program within the project boundaries.
A new state agency, the Lower Wisconsin State Riverway Board, was created to administer the new law. The Board is composed of nine members of which six must be local residents or local elected officials from the affected counties (Columbia, Crawford, Dane, Grant, Iowa, Richland and Sauk). The agency administers a system of "performance standards" which are designed to protect the aesthetic integrity of the Riverway. Permits are required for structures, timber harvesting, utility facilities and other activities. A number of activities are now prohibited within the Riverway. However, most activities associated with an agricultural operation are exempt from the new regulations.
Special Presentations
Below is a list of special presentations that will occur at each monthly Riverway Board in 2009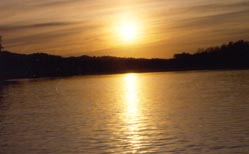 in conjunction with the celebration of the project's 20-year milestone. Governor Jim Doyle has proclaimed 2009 as the Year of the Lower Wisconsin State Riverway and encouraged the residents of Wisconsin to join him in recognizing the accomplishments of the unique project. The presentations at board meetings will highlight the natural resources of the river valley. In addition, the Riverway Board is working to partner with other organizations to sponsor special lectures and presentations at community
events throughout the year.
March 12th
Muscoda
Mark Guthmiller
Invasive Species Challenges
April 9th
Sauk City
Jean Unmuth
Flood Impacts on the Lower Wisconsin River
May 14th
Boscobel
Dan Goltz
The Wildlife Management Program: Muscoda to Wyalusing
June 11th
Mazomanie
Becky Roth
The Wildlife Management Program: Prairie du Sac to Muscoda
July 9th
Gotham
Brad Hutnik
Forestry Management in the Riverway
August 13th
Wyalusing
Brian Hefty
The History of the State Parks System
September 10th
Spring Green
Gene Van Dyck
The Wisconsin River Fishery
October 8th
Wauzeka
David Marshall
Fish of the Wisconsin River Backwaters
November 12th
Avoca
David Youngquist
A Report on Enforcement Activities for 2009
*Source:
http://lwr.state.wi.us/index.asp